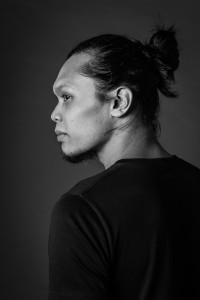 Al-Matin Yatim
Al-Matin Yatim graduated from Intercultural Theatre Institute with a Professional Diploma in Intercultural Theatre (Acting). His theatre acting credits include Ten Thousand Tigers as part of Festival Theatreformen 2016 in Braunschweig, Germany (Ho Tzu Nyen), Between Consciousness (TheatreWorks), Ma'ma Yong (Najib Soiman / Esplanade – Theatres on the Bay), It won't be too long: The Cemetery (Drama Box) as part of Singapore International Festival of Arts 2015, which he shares the nomination of Best Ensemble and Best Production of the Year at the 2016 Life! Theatre Awards, Q: Protagonists at the Edge (Ang Gey Pin / Esplanade – Theatres on the Bay), Hawa (Hatch Theatrics), Power Sex & Success (Aarne Neeme /Intercultural Theatre Institute), The Blind Age (T.Sasitharan / Chowk Production), Decimal Points 810 (Cake Theatrical Production), Balada Tun Fatimah (Teater Kami).
He wrote and directed his debut play in Race to the End II in 2011 as part of a multi-disciplinary young artist showcase organised by Panggung Arts. He last performed his own conceived monologue, Ring in the Desert at the
Singapore Writers Festival 2015's 12 hours performance entitled "What I love about you is your attitude problem" curated by Huzir Sulaiman.
Ring In A Desert
Mamat, your friendly furniture guy had a decent day at work until an annoying incident decided to ruin it. A situation perhaps most of us have experienced before, get so irritated by but can do nothing but to curse secretly in our hearts. But Mamat doesn't stop there. He searches into his pseudo-psychedelic spiritual reasons that brought him from floating in the outer space to swimming in the cell, just to find the wisdom behind it.
This play explores the reasons behind the significance of human existence, of its purpose and wonders through the concept of "middle nation" as stated in the holy Quran. How as an individual, we can affect other people through our actions no matter what social status you possess. Because everybody matters and plays a part, especially in the alleged self-centred, fast-paced and individualistic world we are living in, in creating a better integrated society.