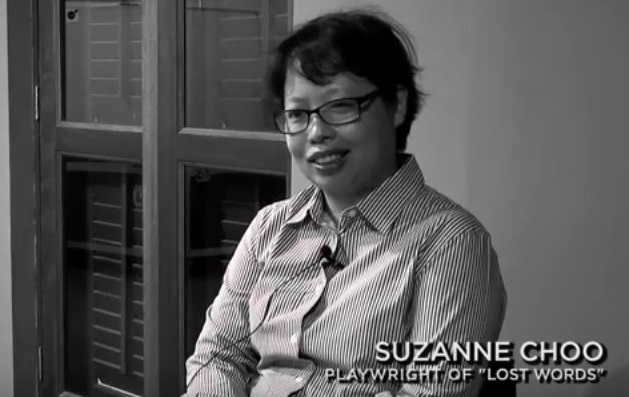 Playwright
The Idea
Process
Suzanne Choo
Suzanne Choo teaches literature at the National Institute of Education. She completed her PhD in English education at Columbia University in New York. Her book "Reading the world, the globe, and the cosmos: Approaches to teaching literature for the twenty-first century" was published in 2013. Aside from writing academic articles, she has an interest in scriptwriting and has been writing plays and musicals for schools for over ten years. In 2008, she was commissioned to write a play titled "Implosion" which was performed over three nights at the Drama Centre. Another play, "smoke," was a top-ten play performed at the Esplanade during the inaugural Short & Sweet Festival and won the People's Choice Award. She hopes to continue writing plays that would de-familiarize the ordinary and provoke philosophical thought on issues related to aesthetics, ethics and social justice in Singapore society.
Open Spaces (working title)
The play is an exploration of the power of the literary imagination and its contribution to the development of civic space in Singapore. It shifts between the present in which metaphor, irony, and word play are no longer understood or valued as a result of society's preference for the pragmatic, the logical, and the literal. This is juxtaposed with late nineteen century Singapore which saw the birth of the literary periodical as a platform through which locals could engage with social and political issues of their time. Set in the midst of a vibrant cosmopolitan world where contestations of power by colonialists, Chinese locals, Straits Chinese and other groups occurred, engagements with the literary played a vital role in developing dialogic and hospitable public discourse. This historical aspect of Singapore is layered with such philosophical questions as – does truth reside in the literal or does the empirical provide only half-truths that are surfaced as reality is disrupted by the fantastical? Does freedom lie in a world where concrete change occurs or in the realm of metaphor and allegory where dispositions of openness and ambivalence are cultivated? Audiences will embark on a journey to explore literature's role in the past and its possibilities for Singapore's future in a play of words, time, and imagination.
Reflections by Suzanne Choo