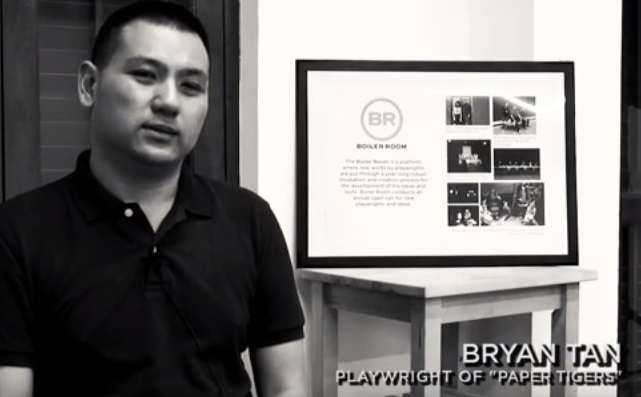 Playwright
The Idea
Process
Bryan Tan
Bryan Tan is a playwright and theatre director. He graduated from the National University of Singapore with a Bachelor of Laws (Honours) in 1999, and is presently the regional legal counsel of a multinational company.
In 1996, he was awarded the First Prize in the Hewlett-Packard / Action Theatre 10-Minute Play Contest for Lizard In The Loo. In 1998, he received a Merit Prize in TheatreWorks' 24-Hour Playwriting Competition for Snakeskin. In the same competition, he received the Second Prize in 2010 for There Will Now Be A 15-Minute Interval, and the First Prize in 2013 for Strike.
In 2004, Teater Ekamatra presented Blissed, and Broomstick as part of Istana 2000. In 2007, TheatreWorks presented The Last Theatre State as part of 120. Play Den Productions presented The Devil's Encore in 2009, and Someday, Samsara in 2010. Most recently, Short One Player Theatre (Taiwan) presented WiFi Lovers in 2013.
He is a member of The Blue Statesmen, an independent collective of theatre artists. For their inaugural production, he conceived and directed BluePrince, which was presented by the collective and The Substation as part of SeptFest 2012 and the Kuo Pao Kun Festival 2012. His other plays include Heavy Heart, Travelling Light, Shopping For Baby, Nerve Endings, X-Country and Offering.
Paper Tigers
"All reactionaries are paper tigers. In appearance, the reactionaries are terrifying, but in reality, they are not so powerful. From a long-term point of view, it is not the reactionaries but the people who are powerful."
– Mao Zedong
Paper Tigers examines the issue: can theatre change society? In that regard, can theatre be an instrument of cultural transformation, in view of its ability to articulate the concerns of a community, convey different positions and perspectives, as well as provoke reflection and debate? Or is theatre nothing more than a form of middle-class (and possibly middle-brow) entertainment, an opiate for the moneyed masses?
This work is set in Singapore during the years of 1990 to 2002, and premised on a fictional theatre company. The audience will be taken behind the scenes, to contemplate the inner workings of the company, and the local theatre scene in general. They will witness, in the rehearsal spaces and dressing rooms, both on- and off-stage, the artists' dreams and anxieties, their ideals and struggles, in that era of often experimental and politically-charged theatre.
Paper Tigers presents a meditation on the complex and contentious relationship between art, society and politics, set during a significant period of theatre history in Singapore.