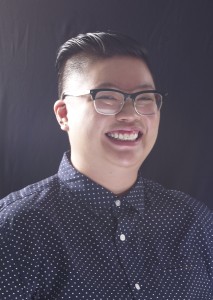 Playwright
The Idea
Process
Post-Programme
Tan Liting

Liting works full time as a theatre practitioner with an interest in devising performance from personal stories. Liting's past directorial credits include The Truth About Lying (The Finger Players' Watch This Space Director's Cycle 2014), Taking The Subs (The Substation Director's Lab), The Eulogy Project I: Muah Chee Mei and I (Potluck Productions), (When I'm) Sixty Four (Ageless Theatre), Re: Almost Left Behind (Singapore Arts Festival 2011), Almost Left Behind (NUS Thespis). Liting likes conversation, hearing and telling a good story. Liting also likes guitars, sneakers and referring to Liting in third person. Liting is a founding member of Theatre Cell.
B*TCH (working title)
B*TCH delves into the realms of feminine masculinity in an attempt to provide a glimpse into the private lives of women who relate to or identify as butch, those who transition through butchness, and the lives of individuals who surround them. Through the sharing of personal experiences and oral history, B*TCH aims to question the positions of those who are not bound by binaries, and seeks to locate them in Singapore's society, a society that often regards them as odd and irrelevant. B*TCH is a performance on and of gender, exploring what it really means to be a butch woman by demystifying the label and problematising the binary. B*TCH is about real people, and their real stories.
Reflections by Tan Liting
B*TCH
, retitled
Pretty Butch,
went on to further development for the stage, commissioned by the M1 Singapore Fringe Festival 2017.  The work is now supported under Centre 42's 
Basement Workshop
 programme.
Read more about the development of Pretty Butch and its subsequent stagings here.