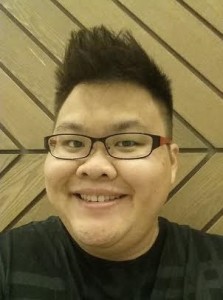 Isaac Lim Jue Hao

Isaac is a freelance bilingual writer and actor. Isaac holds a Bachelor of Arts (Honours) in Theatre Studies from the National University of Singapore, as well as a Diploma in Chinese Media and Communications from Ngee Ann Polytechnic. His first play Satisfaction Guaranteed received the 2nd prize at the Singapore Young Dramatist Award in 2003.  Isaac then won the 24 Hour Playwriting Competition 2015 (Open Category) for Between Consciousness, which was later produced by TheatreWorks in 2016. He is also part of the writing team of Project Understudy (2016, Thespis). As an actor-performer, Isaac was seen in Void Deck (2013, NUS), We, the Inhabitants (2014, NUS) and Incarnation of the Beast (2015, TheatreWorks). On screen, he appeared in Young & Fabulous (2016, Encore Films). Isaac is also a theatre reviewer under Centre 42's Citizens' Reviews. Isaac loves singing (to songs by Zhang Hui Mei), reading, café hopping, shopping and Instagram plus Snapchat.
I am A*MEI (working title)

A*Mei is a musician. A*Mei is an aboriginal. A*Mei is a provocateur.
A*Mei has an identity crisis.
Set in a music bar in an undetermined country with a Chinese majority, the play revolves around the lives of 4 characters, a non‐Chinese who wants to be a part of this city, a local who cannot wait to sanitize himself of the politics of this city, a born male cisgender/transgender who loves the city, and a woman who just hates everything around her. I am A*MEI questions one's affiliation to his country and the policies they think are restricting them, it questions one's gender, sexual and national identity. It is about the star in one's heart, the voices waiting to be heard through the music, and against the music.