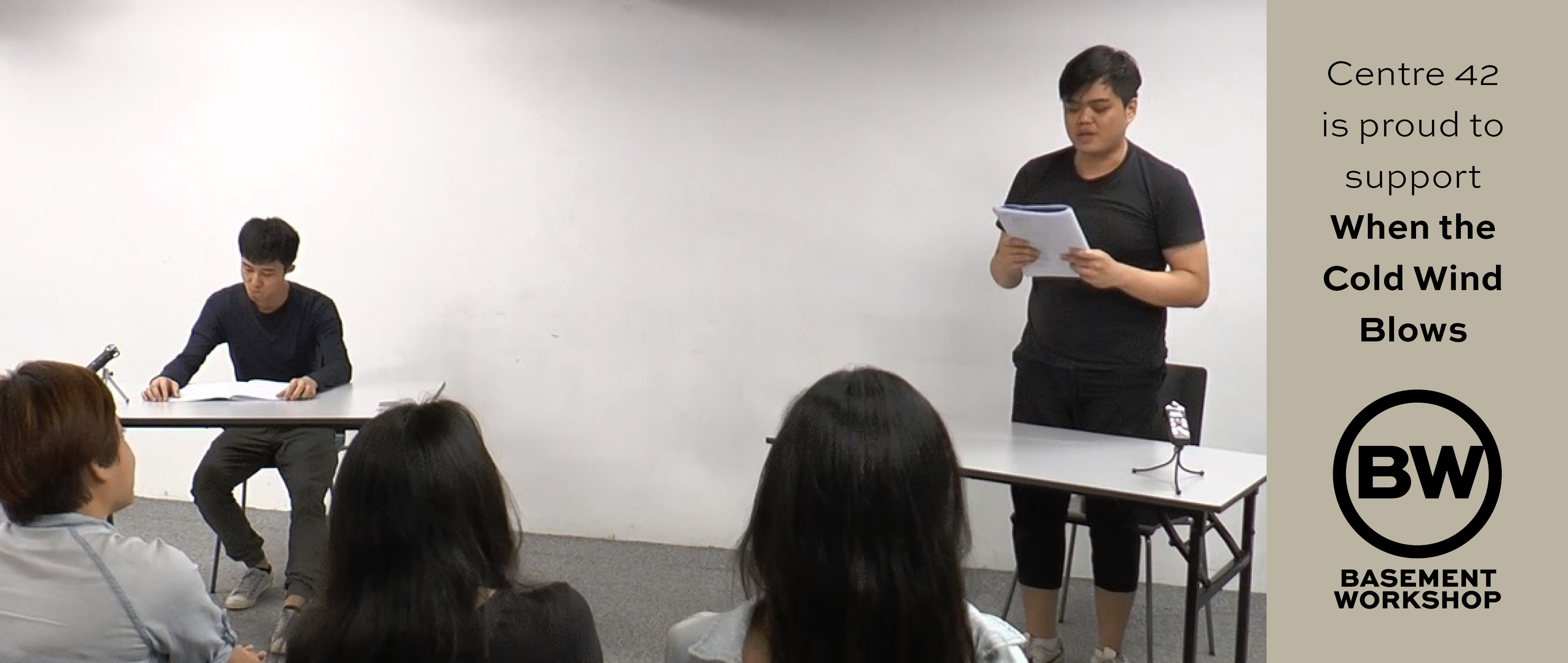 Synopsis
Creation Process
Creative Team
《招》 When The Cold Wind Blows is a new work exploration that came out of a collaboration between two independent artists Neo Hai Bin and Chong Woon Yong. This work explores the Singaporean male identity, using the National Service as a premise, and discover how we deal with the many possibilities (good and bad) that the human nature encompass inherently.
During the development process, they will explore a series of questions: What makes us the way we are? What determines how we behave? Why do we become who we are? Where do our set of beliefs and value systems come from? Why do we sometimes act against our beliefs and value systems? How do we reconcile with the many faces in our very beings?
The project will undergo an incubation period from January to September 2016, which will comprise of research, writing and works-in-progress showcases at each milestone to collect critique and feedback. The duo aim to have a ready play-reading shown in August before deciding on the production direction.
In May, the duo held their first closed-door sharing session with invited audience from the theatre community. They presented a read of their draft script, followed by a detailed discussion with the audience on the writing, the frame of the narrative, the devices used and the development of the characters in the play. Thereafter, the duo will embark on the next phase of rewrites and performance-rehearsals.
Artist – Neo Hai Bin
Over the years, he experienced the theatre's power to question, transform, create, and develop social awareness. It is a haunting experience to be part of theatre, part of life. Neo Hai Bin started off as a member of "ARTivate", the youth wing of Drama Box. He is now a freelance theatre practitioner and has worked with Drama Box, The Theatre Practice, Nine Years Theatre, the Finger Players, and The Necessary Stage. His performances include 
Bondage, Shh.. (Forum theatre), Mulan (children's theatre), Dua Dai Ji (Mockumentary Theatre), 11:Gao Xing Jian Devised (TTP Lab Programme), Life Choices (Monologue), Off-Centre (by The Finger Players), 12 Angry Men, Enemy of the People, The Lower Depths, 
etc. He is a founding and core member of Nine Years Theatre Ensemble Project.
Artist – Chong Woon Yong
Graduated with a B.A from NUS Theatre Studies Programme in 2011, Woon Yong is a bilingual actor and theatre freelancer. Somewhat of a contradiction, Woon Yong revels in artistic creation and collaboration, as well as arts management, and was even a former bureaucrat. Woon Yong last acted in Upstream (2015), The Struggle: Years Later (2015), and previously acted in 11:Kuo Pao Kun Devised (2012) and Almost Left Behind in Singapore Arts Festival (2011).
Creative
Dramaturg – Alvin Lim
Technical Operator – Karene Teo
Advisor – Liu Xiaoyi
Lighting Designer – Liu Yong Huay
Graphic Designer – Ric Liu
Development Milestones
《招》 When The Cold Wind Blows was developed in residence at Centre 42's Basement Workshop from January to September 2016.
May 2016:
A work-in-progress preview presented to a select group of audience
10-11 September 2016:
Dramatised reading presented at the Rehearsal Studio, Centre 42