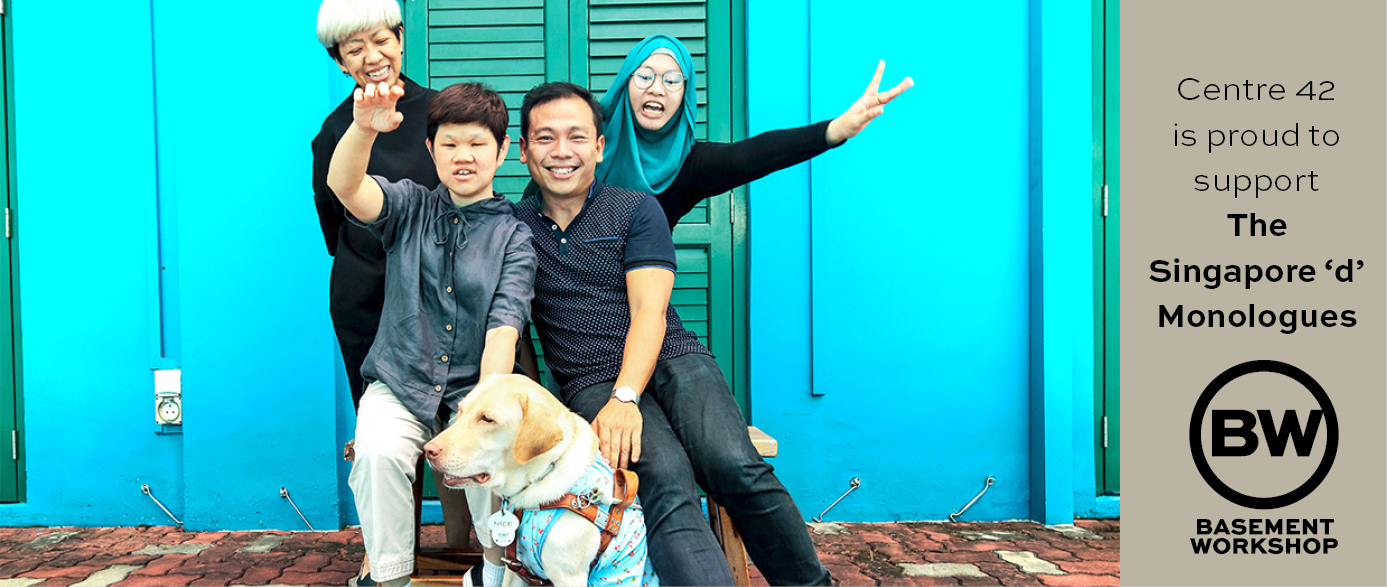 Synopsis
Creation Process
Creative Team
The Singapore 'd' Monologues
 is an international theatrical dialogue about difference, disability, and what it means to be human.
Inspired by previously unrecorded disabled experience, fictionalised monologues will be presented across multiple languages (spoken/projected/visual), incorporating aesthetics of access. This performance will set an important precedent: the first multilingual, intercultural, disability-led theatre project created between the UK and Singapore.
And Suddenly I Disappear – The Singapore 'd'
 Monologues
is in development over two major phases. The first phase – Research & Development – comprises ground research, intensive workshopping and a work-in-progress showcase. Thereafter, the UK arts body
UNLIMITED
commissioned the project for a full production presentation. In this second phase, the project team further developed the script for staging and touring.
The Singapore 'd' Monologues
will premiere in Singapore on 25 May 2018, before touring to two other cities.
With a focus on lived experience, the research phase involved a thorough search for stories and experiences of both the disabled and the deaf. Playwright Kate O'Reilly and assistant director Peter Sau conducted interviews discussing issues like love, raising families, hate crime, etc. With O' Reilly's 70 over interviews with the disabled in the UK and Peter Sau's collection of testimonies of the disabled and deaf in Singapore, O'Reilly was able to write a script comprising of a series of fictionalised monologues. The monologue will be delivered using multiple languages – English, Mandarin, Welsh, British Sign Language and Singapore Sign Language.
The parallel project, titled: Making A Stand, is a new work envisioned as a verbatim theatre work to be presented in Singapore in July 2018. Learnings from the intensive development phases of The Singapore 'd' Monologue' are integral to the conception and development of this new work.
UK Lead Artist: Playwright – Kaite O'Reilly (UK)
Kaite has won many awards for her work, including the Ted Hughes Award for 'Persians' (National Theatre Wales).  Her plays have been translated/produced in eleven countries worldwide, her selected Atypical Plays for Atypical Actors published by Oberon.  A leading figure in UK's disability arts and culture, she received two Unlimited Commissions for 'In Water I'm Weightless,' produced by National Theatre Wales as part of the festival celebrating 2012 London Olympics/Paralympics.  Unlimited commission 'Cosy' was produced at Wales Millennium Centre in 2016.  A fellow of International Research Centre in Berlin, she is reflecting on her practice between hearing and Deaf culture.  Patron of Disability Arts Cymru and DaDaFest.
SG Lead Artist:  Assistant Director, Performer – Peter Sau (Singapore)
Peter graduated from the Intercultural Theatre Institute (ITI) with a Professional Diploma in Intercultural Theatre (Acting).  He won 'Best Actor' in the 2015 Singapore Life! Theatre Awards and has performed in eleven cities globally.  As an independent theatre director, performer and educator, he is now mentoring two disabled mentees towards their solo performances and spearheading a voluntary cost-free theatre training program with a growing number of pan-disability artists-in-the-making.  He knows O'Reilly and Zarilli for twelve years as role models and recognizes his disability as not yet physical or visible, but social, political and cultural.  In 2011, he was conferred the 'Young Artist Award' by the National Arts Council.
Artist: Director – Phillip Zarrilli (UK)
Phillip Zarrilli is an internationally known director, actor, actor-trainer and author.  As founding Artistic Director of The Llanarth Group (2001), he developed a pre-performative psychophysical training using Asian martial arts and yoga.  In 2017, he will direct Beckett's 'Play' and 'Footfalls' in association with the National Theatre, Costa Rica.  In 2016, he directed O'Reilly's 'The 9 Fridas' for Mobius Strip Theatre (first performed in Taipei, 2015) for a restaging in Hong Kong, the world premiere of O'Reilly's 'Cosy' at the Wales Millennium Centre, Cardiff, and the Scandinavian premiere of Ota Shogo's 'The Water Station' for Nordland Teater (Norway) with an international cast to critical acclaim.
Artist: Visual Director, Performer – Ramesh Meyyapan (Singapore / UK)
UK-based Singapore-born, Ramesh creates performances using an eclectic mix of visual and physical theatre styles, incorporating signing, circus techniques, bouffon and puppetry.  His 'Snails & Ketchup' and 'Skewered Snails' were commissioned by the London 2012 Cultural Olympiad project, Unlimited; the former was nominated for a Total Theatre Award UK.  He developed and organized Visual Works (Glasgow), created 'The Magical Phoenix Feather' (BIBU Theatre Festival nomination) for Tyst Theatre (Sweden), led directing workshops for International Visual Theatre in Paris and choreographed a dance narrative for Indepen-dance, that toured Scotland in 2013.  He is currently part of the Programme Design Team for BA Degree for Deaf at Royal Conservatoire of Scotland.
Artist: Performer – Lim Lee Lee (Singapore)
Lee Lee holds a BA in English Language and Literature from the Open University Degree Programme, UK.   She was an executive blind guide in 'Dialogue in The Dark', a darkened museum of simulated living environments where the sighted attempt living lives without sight.  In 1999 and 2001, she co-wrote two song lyrics in the Wataboshi Music Festival.  In 'Concert In The Dark', she sang and played the cajon. Currently, she is mentored by Sau in writing and performing for the stage and seeks to broaden her horizon as an artist by working with disabled role models internationally.  Her goal is to co-lead the first disability-led theatre company in Singapore.
Development Milestones
The Singapore 'd' Monologues was developed in residence at Centre 42's Basement Workshop from March to October 2017 (Phase 1) and May 2018 (Phase 2).
30 September – 1 October 2017:
Showcase to a select group of audience at Black Box, Centre 42
25-27 May 2018:
World premiere of And Suddenly I Disappear – The Singapore 'd' Monologues at National Museum Singapore Gallery Theatre