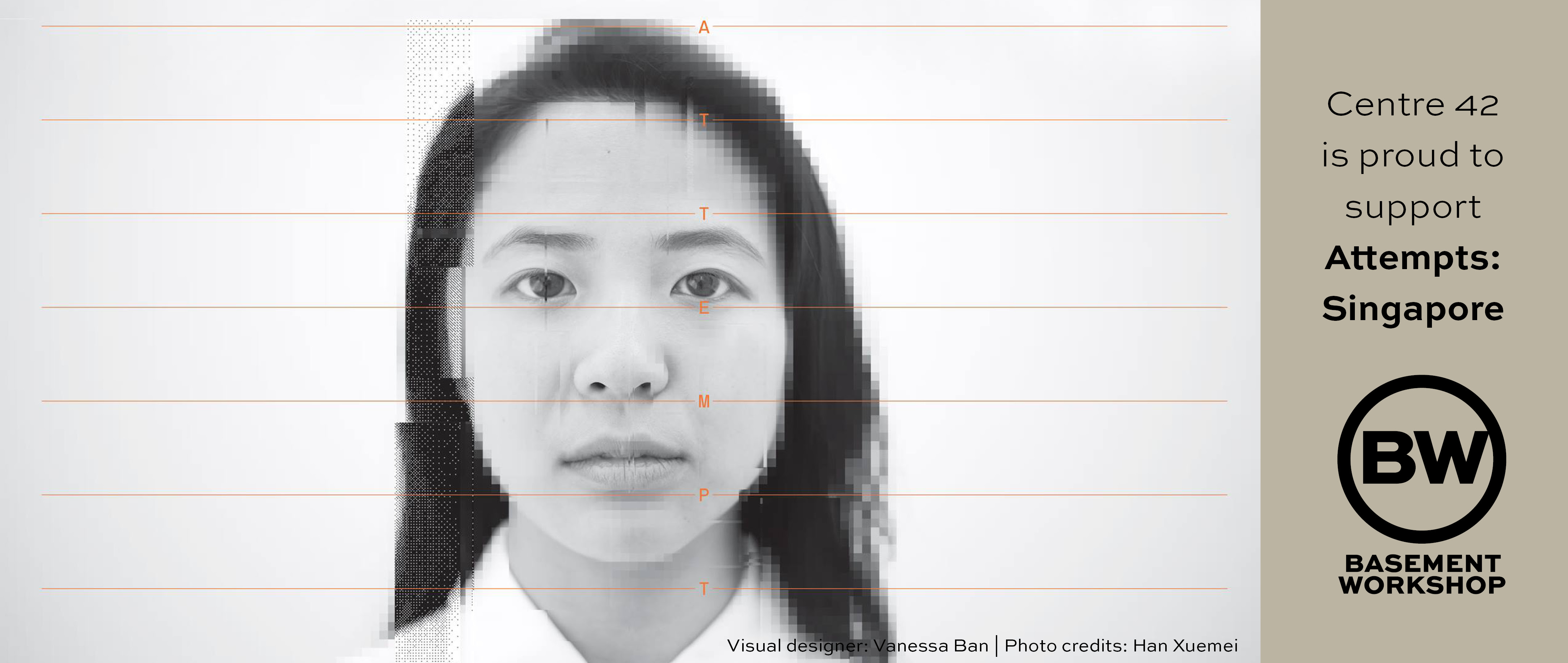 Synopsis
Creation Process
Creative Team
Corporate conglomerate ARC has reached out to the public in a bid to decipher a mysterious databank that has surfaced on their Artificial Intelligence (AI) system named J.O.A.N.. Your profiling skills are urgently required to halt this potential international crisis.
Attempts: Singapore is an immersive theatrical experience that draws inspiration from Martin Crimp's Attempts on Her Life. It takes audience-participants through a non-linear narrative pieced together through the accounts of various witnesses who attempt to describe a missing character named Anne—and in doing so, may incriminate her in the ARC incident. As we collectively try to define her, are we closer to understanding—or destroying—her?
Attempts: Singapore is an immersive theatrical experience that takes audience-participants through a non-linear narrative involving technology, an elusive character named Anne and her involvement in a potential international crisis. The work was inspired by Martin Crimp's 1997 postmodernist play, Attempts on Her Life, where the audience is presented with 17 unrelated scenarios that give clues about the possible identity of a woman named Anne. Rei Poh had created and staged the first iteration of the piece in Melbourne in 2016 when he was studying for his Masters in Theatre Performance & Directing at the Victorian College of the Arts.
Attempts: Singapore aims to look at the ways and processes that different types of devising and/or interactive performances have adopted, so as to come up with a way to effectively devise and rehearse performances that spectators can partake in. Questions Attempts: Singapore are exploring includes: What are the qualities required from actors or non-actors in devising and rehearsing for participatory performances? What are the ways actors can train and rehearse a participatory performance?
Using the text from Martin Crimp's Attempts On Her Life, actors are tasked to create images that will be condensed and expanded into possible scenes. The creation process includes having the cast and creative team – including the stage manager, sound designer, and intern – to devise the content of the piece from scratch. In each rehearsal session, the team would look at one or two scenes and come up with a series of images based on the text, which they will then expand into a performance. Often incorporating local context into the piece, and tackle issues that are relevant to Singapore.
With an emphasis on location specific, in-situation creativity, all rehearsals will take place at the performance location at Centre 42. The interactive piece is stimulated and developed through game design and further elevated through training of the actor's facilitation and technical skills.
Director/Concept & Game Designer – Rei Poh
Rei Poh is a theatre practitioner, director and actor interested in the use of gaming narratives within participatory theatre. As a citizen of "meritocratic", achievement-obsessed Singapore, Rei believes in embracing and celebrating failures.
KEY FAILURES
1995 – Moved from Express stream (average) to Normal stream (sub-par)
1997 – GCSE O-Level score of 26 (the lower, the better. 6 = perfect score)
1998 – Failed to complete Manufacturing Diploma
2001 – Applied for Police Academy, but gave up on multiple entry exams
2008 – Unemployed and living with parents
2016 – In debt upon completion of VCA Masters programme
Dramaturg – Zee Wong
Zee is an actor, singer, playwright and theatre maker. Her acting credits include ITSY – The Musical (The Finger Players); Café (The Twenty-Something Theatre Festival); and Normal (Checkpoint Theatre). She is currently writing a play about gender issues and sexual violence, as part of Centre 42's Boiler Room 2016 cycle. She is also an Apprentice (2016-2018) with The Finger Players.
Production Stage Manager – Izzatul Fia
Izz started out in the industry as a dresser which later sparked her passion in the performing arts doing production and backstage work. She has worked for various stage productions and major events such as the M1 Singapore Fringe Festival and Esplanade Presents festivals. A graduate of Victorian College of the Arts, Izz developed versatility engaging in productions of different genres and being part of the collaborative creative process. When not busy working, she would be cuddling with her two cats at home.
Sound Designer – Jing Ng
Awarded with a National Arts Council scholarship, Jing graduated with first class honours from Rose Bruford College (UK) specialising in Performance Sound. He has a keen interest in sound design in theatre and dance, and enjoys collaborative, devised and experimental works. His Singapore credits are: Silly Little Girl and The Funny Old Tree; Titoudao; A Fleeting Moment; Grind; Lord of The Flies; Red Sky; Prism; Fundamentally Happy; Dragonflies. Jing was nominated for Best Sound Design in the 2014 Off West End Theatre Awards for Outfox Productions' Corpus Christi (UK).
Projection Designer – Genevieve Peck
Genevieve graduated from The Royal Central School of Speech and Drama, London in 2012 with a BA(Hons) in Theatre Practice, specialising in Lighting and Projection/Video Design. She has worked with companies such as Pangdemonium, The Theatre Practice, Toy Factory, Frontier Danceland, Sing'Theatre, Drama Box, The Arts Fission Company, Siong Leng Musical Association, Singapore Repertory Theatre, Apsaras Arts and Sightlines Productions. Genevieve has also worked on events such as the ASEAN Para Games 2015's Opening and Closing Ceremonies and Kit Chan's Spellbound concert.
Performer – Farez Najid
Farez Najid was trained in BA (Acting) at LASALLE College of the Arts for two years. His works include PRISM (Toy Factory Productions, 2017), Geylang (W!LD RICE, 2016), and Tan Tarn How's The Lady of Soul and the Ultimate "S" Machine (Esplanade's The Studios 2015). Farez aspires to be a competent educator in the realm of theatre education.
Performer – Henrik cheng
A native of New York City, Henrik has worked in a gamut of theatre roles. A chance encounter with Singaporean artists at a La MaMa symposium led him to question the American-centric approach and limits of his practice. From there, it has been a 9,521 mile journey to Singapore. While at the Intercultural Theatre Institute (ITI), Henrik has worked on Speak Cryptic's The Tribe (The O.P.E.N.), Wright Assembly's Alamat Bahru, and Tan Liting's Pretty Butch (M1 Singapore Fringe Festival). Henrik gravitates towards performing work that provides hope, is healing, or encourages positive, proactive change.
Performer – Julie Wee
Julie Wee trained as an actor at the Victorian College of the Arts. Her stage credits include Normal (Checkpoint Theatre), Mosaic (Take Off Productions), Juliet in Romeo and Juliet (W!LD RICE), Portia in The Merchant of Venice (Singapore Repertory Theatre) and Elizabeth Proctor in The Crucible (Toy Factory). She is a professional voiceover artist who runs her own home studio. Companies that use her voice include Visa, SK-II and Olay. Julie's showreels can be found on her YouTube channel: JulieWeeVO.
Performer – Sabrina Sng
Sabrina Sng is an artist from Singapore. Her work learns from the body–its memories and its truth. A National Arts Council Undergraduate Arts Scholarship recipient, she graduated from NYU Tisch School of the Arts (Experimental Theatre Wing) and holds a BFA with honours in Theatre Arts. She is a graduate of the inaugural SITI Conservatory Program, an immersion program for international artists. Her recent work includes: Lobsters (Lucy-Margaux Marinkovich), Adam and Evie (SITI Conservatory) and Salomé (Kevin Kuhlke, ETW Mainstage).
Performer – Suhaili Safari
Suhaili Safari has worked professionally as an actor since 2003, and her recent works include MainMain (2017, Teater Ekamatra, Esplanade Presents Pesta Raya) and Medea (2017, Cake Theatrical Productions). She has also written and directed The Kingdom Under My Bed (2010, Esplanade Presents Octoburst!), a children's play by Teater Ekamatra. Suhaili was also nominated for Best Sound Design at the M1-Straits Times Life! Theatre Awards 2017 for her work in a collaborative independent production, Mother, I (2016).
Deviser/ Intern – Wong Shao Qi
Shao Qi is an aspiring performer who is in her second year at LASALLE College of the Arts. She is excited to be a part of a project that brings together her two greatest passions—gaming and theatre. Shao Qi hopes to continue growing as a performer, and to contribute to the arts scene in Singapore.
Development Milestones
Attempts: Singapore was developed in residence at Centre 42's Basement Workshop from November 2017 to January 2018.
24-27 January 2018:
World Premiere at various spaces in Centre 42, as part of M1 Singapore Fringe Festival 2018