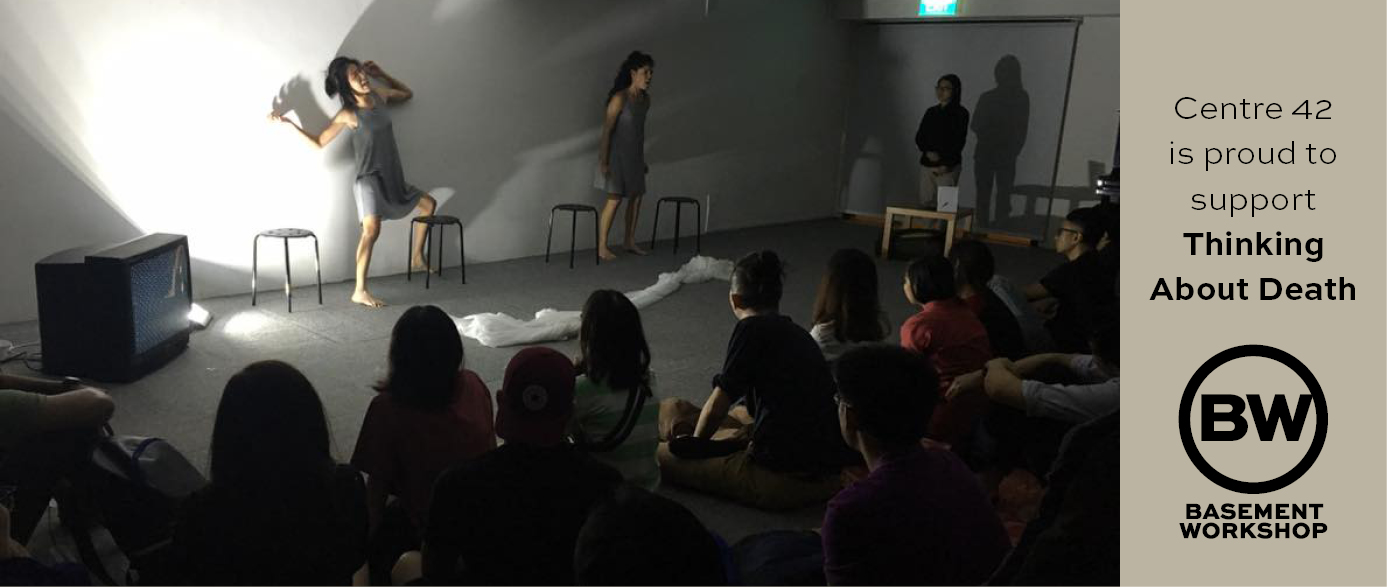 Synopsis
Creation Process
Creative Team
A woman is dying.  Her mind shifts in and out of memories and spaces. The world becomes more tactile, a place of passing.
In the interwoven state of memories and time, she recollects a time spent with a monkey.
Playing with ideas of life and death rituals from both the animal kingdom and the human animal of mankind, Thinking About Death is a laboratory that explores a woman who is contemplating death and revisits the memories of a monkey who, for a small part of her life, kept her the most alive.
For this project, Pink Gajah Theatre aims to experiment with text, imagery and sound in a blend of constructed and decontructed rituals from animal and human animal. They hope to achieve a laboratory that is open and daring in entering a world that is primal , practical and mystical. The objective of having a works in progress is part of Pink Gajah Theatre's new concept named, 'Pink Gajah Magic Lab' which platforms new original works paired with various artists from different backgrounds; to create space and workshops for the possibility of new approaches to art making and taking risks with new original ideas from a spectrum of artists.
The first work-in-progress showing of Thinking About Death will be held at GNOSSEM in December 2016 followed by a post show dialogue after each performance.
Pink Gajah Theatre 
Pink Gajah Theatre is a company formed in 2013 and founded by local arts educator and theatre practitioner, Sharda Harrison. Our focus is in two aspects of theatre. We are a drama in education company and work with students and participants of all ages from the community. Our second focus is to provide a platform to devise and create new works.
Man Made God, Pink Gajah's debut performance, was launched at the 2013 Lit Up indie arts festival by Word Forward. Why Do We Do What We Do? was performed as a solo piece by Sharda Harrison in 2014 in collaboration with Word Forward.
Performer – Sharda Harrison
Sharda Harrison is an award winning local theatre performer and arts educator. She graduated with a B.A (hons) in Acting from Lasalle College of the Arts in 2009. Since then she has performed in a spectrum of theatre shows in Singapore as well as internationally. Her most recent works are, 'Manifesto' and 'Untiled Women' by The Necessary Stage, 'Hotel' and 'Another Country'by Wild Rice, and Pink Gajah's  M1 fringe festival comisioned work'Bi(cara)'. Sharda founded Pink Gajah Theatre in 2013. Since then, she has been actively using  Pink Gajah as a platform to showcase arts focussed on social and environmenal activism. Her education wing focuses on bringing movement, drama and balance to children, teenagers and adults. Sharda was part of the winning 'Best Ensemble' for 'Hotel' at the recent  M1 Life! Theatre Awards.
Visual Design – Sean Harrison
Sean Harrison is an up and coming film-maker and media designer. He has a diploma in film from Singapore Audio and Sound Engineering (SAE) institute and is currently pursuing his degree in film at  SAE. His recent works include Pink Gajah Theatre's 'In Sya Allah' a short 10 minute documentary on a Eurasian woman's conversion into Islam. He has been mentored by Singapore's reknowned artist, Brian Gothong Tan in media art for theatre. Sean is Pink Gajah's resident media design artist, however he also writes and directs for our theatre wing.  He was most recently the main mentor and film director for Project UNSEEN CONSTELLATIONS.
Sound Design – Mei Yin Lim
Mei Yin started her journey in music making with learning to play the piano at the age of nine. She moved on to percussion in her teenage years, and eventually her curiosity in sounds led her to explore the realms of sound design and music composition. Currently working as a videographer, her approach to creating soundscapes is often inspired by what she sees around her and how that translates to how she feels. As the resident sound artist for Pink Gajah Theatre, she hopes to continually explore and work towards making sounds that affect minds and stir hearts.
Performer – Deborah Carmen Coon
Deborah is a physical theatre performer and educator. Her most recent productions include Every Singaporean Daughter (July 2016) by Unsaid productions and The Good The Bad and The Sholay (November 2015) by Checkpoint Theatre. Deborah trained in East 15 Acting School in the UK, graduating with a 1st Class Honours in BA Physical Theatre. Before leaving for the UK, Deborah has also performed locally with ECNAD in Homage To The Phoenix in 2012 and Papermonkey Theatre in Goldfish Go Fish! in 2011.
She has also led several workshops in LaSalle, Buds Youth Theatre, and The Learning Connections.
Development Milestones
Thinking About Death was developed in residence at Centre 42's Basement Workshop from October to December 2016.
15-17 December 2016:
A work-in-progress preview presented to an audience at GNOSSEM
8 December 2017:
Pink Gajah Magic Lab 2 presented at Rehearsal Studio, Centre 42
9-11 March 2017:
Pink Gajah Magic Lab 3 titled Alter Egos presented at rumah gajah